Warning
: preg_replace(): The /e modifier is no longer supported, use preg_replace_callback instead in
/gckstir.poniec.pl/libraries/joomla/filter/input.php
on line
652
Warning
: preg_replace(): The /e modifier is no longer supported, use preg_replace_callback instead in
/gckstir.poniec.pl/libraries/joomla/filter/input.php
on line
654
Warning
: preg_replace(): The /e modifier is no longer supported, use preg_replace_callback instead in
/gckstir.poniec.pl/libraries/joomla/filter/input.php
on line
652
Warning
: preg_replace(): The /e modifier is no longer supported, use preg_replace_callback instead in
/gckstir.poniec.pl/libraries/joomla/filter/input.php
on line
654
Warning
: preg_replace(): The /e modifier is no longer supported, use preg_replace_callback instead in
/gckstir.poniec.pl/libraries/joomla/filter/input.php
on line
652
Warning
: preg_replace(): The /e modifier is no longer supported, use preg_replace_callback instead in
/gckstir.poniec.pl/libraries/joomla/filter/input.php
on line
654
Warning
: preg_replace(): The /e modifier is no longer supported, use preg_replace_callback instead in
/gckstir.poniec.pl/libraries/joomla/filter/input.php
on line
652
Warning
: preg_replace(): The /e modifier is no longer supported, use preg_replace_callback instead in
/gckstir.poniec.pl/libraries/joomla/filter/input.php
on line
654
Warning
: preg_replace(): The /e modifier is no longer supported, use preg_replace_callback instead in
/gckstir.poniec.pl/libraries/joomla/filter/input.php
on line
652
Warning
: preg_replace(): The /e modifier is no longer supported, use preg_replace_callback instead in
/gckstir.poniec.pl/libraries/joomla/filter/input.php
on line
654
Warning
: preg_replace(): The /e modifier is no longer supported, use preg_replace_callback instead in
/gckstir.poniec.pl/libraries/joomla/filter/input.php
on line
652
Warning
: preg_replace(): The /e modifier is no longer supported, use preg_replace_callback instead in
/gckstir.poniec.pl/libraries/joomla/filter/input.php
on line
654
Warning
: preg_replace(): The /e modifier is no longer supported, use preg_replace_callback instead in
/gckstir.poniec.pl/libraries/joomla/filter/input.php
on line
652
Warning
: preg_replace(): The /e modifier is no longer supported, use preg_replace_callback instead in
/gckstir.poniec.pl/libraries/joomla/filter/input.php
on line
654
Warning
: preg_replace(): The /e modifier is no longer supported, use preg_replace_callback instead in
/gckstir.poniec.pl/libraries/joomla/filter/input.php
on line
652
Warning
: preg_replace(): The /e modifier is no longer supported, use preg_replace_callback instead in
/gckstir.poniec.pl/libraries/joomla/filter/input.php
on line
654
Warning
: preg_replace(): The /e modifier is no longer supported, use preg_replace_callback instead in
/gckstir.poniec.pl/libraries/joomla/filter/input.php
on line
652
Warning
: preg_replace(): The /e modifier is no longer supported, use preg_replace_callback instead in
/gckstir.poniec.pl/libraries/joomla/filter/input.php
on line
654
Warning
: preg_replace(): The /e modifier is no longer supported, use preg_replace_callback instead in
/gckstir.poniec.pl/libraries/joomla/filter/input.php
on line
652
Warning
: preg_replace(): The /e modifier is no longer supported, use preg_replace_callback instead in
/gckstir.poniec.pl/libraries/joomla/filter/input.php
on line
654
Warning
: preg_replace(): The /e modifier is no longer supported, use preg_replace_callback instead in
/gckstir.poniec.pl/libraries/joomla/filter/input.php
on line
652
Warning
: preg_replace(): The /e modifier is no longer supported, use preg_replace_callback instead in
/gckstir.poniec.pl/libraries/joomla/filter/input.php
on line
654
Warning
: preg_replace(): The /e modifier is no longer supported, use preg_replace_callback instead in
/gckstir.poniec.pl/libraries/joomla/filter/input.php
on line
652
Warning
: preg_replace(): The /e modifier is no longer supported, use preg_replace_callback instead in
/gckstir.poniec.pl/libraries/joomla/filter/input.php
on line
654
Warning
: preg_replace(): The /e modifier is no longer supported, use preg_replace_callback instead in
/gckstir.poniec.pl/libraries/joomla/filter/input.php
on line
652
Warning
: preg_replace(): The /e modifier is no longer supported, use preg_replace_callback instead in
/gckstir.poniec.pl/libraries/joomla/filter/input.php
on line
654
Warning
: preg_replace(): The /e modifier is no longer supported, use preg_replace_callback instead in
/gckstir.poniec.pl/libraries/joomla/filter/input.php
on line
652
Warning
: preg_replace(): The /e modifier is no longer supported, use preg_replace_callback instead in
/gckstir.poniec.pl/libraries/joomla/filter/input.php
on line
654
Warning
: preg_replace(): The /e modifier is no longer supported, use preg_replace_callback instead in
/gckstir.poniec.pl/libraries/joomla/filter/input.php
on line
652
Warning
: preg_replace(): The /e modifier is no longer supported, use preg_replace_callback instead in
/gckstir.poniec.pl/libraries/joomla/filter/input.php
on line
654
Warning
: preg_replace(): The /e modifier is no longer supported, use preg_replace_callback instead in
/gckstir.poniec.pl/libraries/joomla/filter/input.php
on line
652
Warning
: preg_replace(): The /e modifier is no longer supported, use preg_replace_callback instead in
/gckstir.poniec.pl/libraries/joomla/filter/input.php
on line
654
Warning
: preg_replace(): The /e modifier is no longer supported, use preg_replace_callback instead in
/gckstir.poniec.pl/libraries/joomla/filter/input.php
on line
652
Warning
: preg_replace(): The /e modifier is no longer supported, use preg_replace_callback instead in
/gckstir.poniec.pl/libraries/joomla/filter/input.php
on line
654
Warning
: preg_replace(): The /e modifier is no longer supported, use preg_replace_callback instead in
/gckstir.poniec.pl/libraries/joomla/filter/input.php
on line
652
Warning
: preg_replace(): The /e modifier is no longer supported, use preg_replace_callback instead in
/gckstir.poniec.pl/libraries/joomla/filter/input.php
on line
654
Warning
: preg_replace(): The /e modifier is no longer supported, use preg_replace_callback instead in
/gckstir.poniec.pl/libraries/joomla/filter/input.php
on line
652
Warning
: preg_replace(): The /e modifier is no longer supported, use preg_replace_callback instead in
/gckstir.poniec.pl/libraries/joomla/filter/input.php
on line
654
Warning
: preg_replace(): The /e modifier is no longer supported, use preg_replace_callback instead in
/gckstir.poniec.pl/libraries/joomla/filter/input.php
on line
652
Warning
: preg_replace(): The /e modifier is no longer supported, use preg_replace_callback instead in
/gckstir.poniec.pl/libraries/joomla/filter/input.php
on line
654
Warning
: preg_replace(): The /e modifier is no longer supported, use preg_replace_callback instead in
/gckstir.poniec.pl/libraries/joomla/filter/input.php
on line
652
Warning
: preg_replace(): The /e modifier is no longer supported, use preg_replace_callback instead in
/gckstir.poniec.pl/libraries/joomla/filter/input.php
on line
654
Warning
: preg_replace(): The /e modifier is no longer supported, use preg_replace_callback instead in
/gckstir.poniec.pl/libraries/joomla/filter/input.php
on line
652
Warning
: preg_replace(): The /e modifier is no longer supported, use preg_replace_callback instead in
/gckstir.poniec.pl/libraries/joomla/filter/input.php
on line
654
Warning
: preg_replace(): The /e modifier is no longer supported, use preg_replace_callback instead in
/gckstir.poniec.pl/libraries/joomla/filter/input.php
on line
652
Warning
: preg_replace(): The /e modifier is no longer supported, use preg_replace_callback instead in
/gckstir.poniec.pl/libraries/joomla/filter/input.php
on line
654
Warning
: preg_replace(): The /e modifier is no longer supported, use preg_replace_callback instead in
/gckstir.poniec.pl/libraries/joomla/filter/input.php
on line
652
Warning
: preg_replace(): The /e modifier is no longer supported, use preg_replace_callback instead in
/gckstir.poniec.pl/libraries/joomla/filter/input.php
on line
654
Warning
: preg_replace(): The /e modifier is no longer supported, use preg_replace_callback instead in
/gckstir.poniec.pl/libraries/joomla/filter/input.php
on line
652
Warning
: preg_replace(): The /e modifier is no longer supported, use preg_replace_callback instead in
/gckstir.poniec.pl/libraries/joomla/filter/input.php
on line
654
Warning
: preg_replace(): The /e modifier is no longer supported, use preg_replace_callback instead in
/gckstir.poniec.pl/libraries/joomla/filter/input.php
on line
652
Warning
: preg_replace(): The /e modifier is no longer supported, use preg_replace_callback instead in
/gckstir.poniec.pl/libraries/joomla/filter/input.php
on line
654
Warning
: preg_replace(): The /e modifier is no longer supported, use preg_replace_callback instead in
/gckstir.poniec.pl/libraries/joomla/filter/input.php
on line
652
Warning
: preg_replace(): The /e modifier is no longer supported, use preg_replace_callback instead in
/gckstir.poniec.pl/libraries/joomla/filter/input.php
on line
654
Warning
: preg_replace(): The /e modifier is no longer supported, use preg_replace_callback instead in
/gckstir.poniec.pl/libraries/joomla/filter/input.php
on line
652
Warning
: preg_replace(): The /e modifier is no longer supported, use preg_replace_callback instead in
/gckstir.poniec.pl/libraries/joomla/filter/input.php
on line
654
Warning
: preg_replace(): The /e modifier is no longer supported, use preg_replace_callback instead in
/gckstir.poniec.pl/libraries/joomla/filter/input.php
on line
652
Warning
: preg_replace(): The /e modifier is no longer supported, use preg_replace_callback instead in
/gckstir.poniec.pl/libraries/joomla/filter/input.php
on line
654
Warning
: preg_replace(): The /e modifier is no longer supported, use preg_replace_callback instead in
/gckstir.poniec.pl/libraries/joomla/filter/input.php
on line
652
Warning
: preg_replace(): The /e modifier is no longer supported, use preg_replace_callback instead in
/gckstir.poniec.pl/libraries/joomla/filter/input.php
on line
654
Warning
: preg_replace(): The /e modifier is no longer supported, use preg_replace_callback instead in
/gckstir.poniec.pl/libraries/joomla/filter/input.php
on line
652
Warning
: preg_replace(): The /e modifier is no longer supported, use preg_replace_callback instead in
/gckstir.poniec.pl/libraries/joomla/filter/input.php
on line
654
Warning
: preg_replace(): The /e modifier is no longer supported, use preg_replace_callback instead in
/gckstir.poniec.pl/libraries/joomla/filter/input.php
on line
652
Warning
: preg_replace(): The /e modifier is no longer supported, use preg_replace_callback instead in
/gckstir.poniec.pl/libraries/joomla/filter/input.php
on line
654
Warning
: preg_replace(): The /e modifier is no longer supported, use preg_replace_callback instead in
/gckstir.poniec.pl/libraries/joomla/filter/input.php
on line
652
Warning
: preg_replace(): The /e modifier is no longer supported, use preg_replace_callback instead in
/gckstir.poniec.pl/libraries/joomla/filter/input.php
on line
654
Warning
: preg_replace(): The /e modifier is no longer supported, use preg_replace_callback instead in
/gckstir.poniec.pl/libraries/joomla/filter/input.php
on line
652
Warning
: preg_replace(): The /e modifier is no longer supported, use preg_replace_callback instead in
/gckstir.poniec.pl/libraries/joomla/filter/input.php
on line
654
Warning
: preg_replace(): The /e modifier is no longer supported, use preg_replace_callback instead in
/gckstir.poniec.pl/libraries/joomla/filter/input.php
on line
652
Warning
: preg_replace(): The /e modifier is no longer supported, use preg_replace_callback instead in
/gckstir.poniec.pl/libraries/joomla/filter/input.php
on line
654
Warning
: preg_replace(): The /e modifier is no longer supported, use preg_replace_callback instead in
/gckstir.poniec.pl/libraries/joomla/filter/input.php
on line
652
Warning
: preg_replace(): The /e modifier is no longer supported, use preg_replace_callback instead in
/gckstir.poniec.pl/libraries/joomla/filter/input.php
on line
654
Warning
: preg_replace(): The /e modifier is no longer supported, use preg_replace_callback instead in
/gckstir.poniec.pl/libraries/joomla/filter/input.php
on line
652
Warning
: preg_replace(): The /e modifier is no longer supported, use preg_replace_callback instead in
/gckstir.poniec.pl/libraries/joomla/filter/input.php
on line
654
Warning
: preg_replace(): The /e modifier is no longer supported, use preg_replace_callback instead in
/gckstir.poniec.pl/libraries/joomla/filter/input.php
on line
652
Warning
: preg_replace(): The /e modifier is no longer supported, use preg_replace_callback instead in
/gckstir.poniec.pl/libraries/joomla/filter/input.php
on line
654
Warning
: preg_replace(): The /e modifier is no longer supported, use preg_replace_callback instead in
/gckstir.poniec.pl/libraries/joomla/filter/input.php
on line
652
Warning
: preg_replace(): The /e modifier is no longer supported, use preg_replace_callback instead in
/gckstir.poniec.pl/libraries/joomla/filter/input.php
on line
654
Warning
: preg_replace(): The /e modifier is no longer supported, use preg_replace_callback instead in
/gckstir.poniec.pl/libraries/joomla/filter/input.php
on line
652
Warning
: preg_replace(): The /e modifier is no longer supported, use preg_replace_callback instead in
/gckstir.poniec.pl/libraries/joomla/filter/input.php
on line
654
Warning
: preg_replace(): The /e modifier is no longer supported, use preg_replace_callback instead in
/gckstir.poniec.pl/libraries/joomla/filter/input.php
on line
652
Warning
: preg_replace(): The /e modifier is no longer supported, use preg_replace_callback instead in
/gckstir.poniec.pl/libraries/joomla/filter/input.php
on line
654
Warning
: preg_replace(): The /e modifier is no longer supported, use preg_replace_callback instead in
/gckstir.poniec.pl/libraries/joomla/filter/input.php
on line
652
Warning
: preg_replace(): The /e modifier is no longer supported, use preg_replace_callback instead in
/gckstir.poniec.pl/libraries/joomla/filter/input.php
on line
654
I edycja Bake a Cake za nami!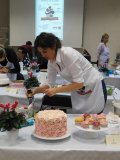 W poniedziałek 23 października 2017 roku w sali Gminnego Centrum Kultury w Poniecu odbyła się długo wyczekiwana, pierwsza edycja Ponieckiego "Bake a Cake". Głównymi organizatorami amatorskiego konkursu cukierniczego było Gminne Centrum Kultury oraz Zakład Ciastkarski Piotr Lisiak. Na początku imprezy uczestniczkom otuchy dodał Burmistrz Ponieca Jacek Widyński po czym Pan Piotr Lisiak oficjalnie rozpoczął konkurs przedstawiając jury. Do cukierniczych zmagań przystąpiło aż 18 kobiet, które od pierwszych minut trwania zawodów ochoczo przystąpiły do działania, po tym jak Burmistrz Ponieca na dobry początek każdej z pań wręczył fartuch z logo konkursu. Zmagania składały się z dwóch części: pierwszej pisemnej -teoretycznej trwającej 15 minut, dotyczącej wiedzy z zakresu cukiernictwa gdzie jednym z pierwszych pytań było "Co jest słodsze? – miód czy cukier" oraz z części praktycznej trwającej 150 minut, która budziła najwięcej emocji, zarówno ze strony widowni ,a przede wszystkim uczestniczek. Wszystkie Panie profesjonalnie podeszły do zadania i z dużym zaangażowaniem tworzyły swoje cukiernicze dzieła, a do przygotowania miały tort, deser oraz figurkę z masy cukrowej.
Wokół bajek o prawie

Wiesz, kiedy zawiera się umowę? Czy ignorantia iuris nocet to tajemnicze zaklęcie? Kim jest mecenas? Na te i podobne pytania udzielał odpowiedzi pisarz, autor literatury dziecięcej – p. Jakub Skworz, który w czwartek 19 października br., na zaproszenie żytowieckiej biblioteki- filii Gminnej Biblioteki Gminnego Centrum Kultury w Poniecu, spotkał się z uczniami klas trzecich Szkoły Podstawowej w Żytowiecku..
Artystyczne dusze

W piątkowe popołudnie grupa dzieci spotkała się w bibliotece, by własnoręcznie stworzyć obrazek. Do jego wykonania potrzebne były sklejka, kolorowe strony gazet, klej, szablony, ale przede wszystkim pomysł i kreatywność, której nie brakowało uczestnikom co widać na załączonych zdjęciach.
W Poniecu już wiedzą jak się obronić

Szkolenia zorganizowane w sobotni wieczór, były rodzajem specjalistycznych treningów dla kobiet i dzieci mających na celu naukę rozpoznawania sytuacji zagrożenia, pewności siebie oraz zachowania przy spotkaniu z napastnikiem. Zajęcia prowadzili trenerzy KS TIGER WIELKOPOLSKA Krzysztof Bednarz, Krzysztof Żurczak, Radosław Cichowlas oraz Maria Kobus. Łącznie w szkoleniach udział wzięło kilkadziesiąt osób.
Sekcja Nordic Walking na "Polska Biega"

Jesień to okres kolejnych edycji akcji pn. "Polska Biega". Grupa kijkarzy z sekcji Nordic Walking z Ponieca wraz z grupą Bojanowskich Kijków Szczęścia wzięły udział w dwóch imprezach tego cyklu, 24 września w Sarnowie, a tydzień później tj. 1 października w Karcu w Biegu Jesieni. Tym razem hasło jakie przyświęcało uczestnikom ogólnopolskiej akcji to" Biegam, bo lubię". Imprezy przyciągnęły amatorów spędzania czasu na świeżym powietrzu, a wspaniała, jesienna pogoda zachęcała do marszu, biegu czy spaceru.
Podsumowanie sezonu muzycznego orkiestry w Miechcinie

Po sobotniej próbie muzycy Dziecięco- Młodzieżowej Orkiestry Dętej Gminnego Centrum Kultury w Poniecu udali się do "wigwamu" w Miechcinie gdzie dokonano podsumowania sezonu muzycznego roku 2017. W spotkaniu oprócz młodych instrumentalistów i ich rodziców uczestniczyli dyrektor GCK Maciej Malczyk, kapelmistrz orkiestry Wiktor Bąk oraz instruktorzy Borys Kaźmierczak i Tadeusz Urbaniak.
Podsumowując rok muzyczny dyrygent naszej orkiestry podkreślił, iż stanowią obecnie doskonale grającą grupę, która uświetniła swoją grą w tym roku 24 imprezy, koncertując nie tylko w naszej gminie, ale i poza nią. Swój wizerunek zaznaczyli m.in. wspaniałym Koncertem Noworocznym, uświetniając uroczystości odpustowe w Wieleniu czy biorąc udział w przeglądzie orkiestr dętych w Kleczewie. Swoje zadowolenie i podziękowanie kapelmistrz skierował do dyrektora GCK w Poniecu za wsparcie orkiestry, pomoc przy organizacji wyjazdów, koncertów, warsztatów muzycznych i zakupie sprzętu muzycznego. Szczególne podziękowania skierowano do rodziców muzyków, dziękując im za współpracę.
Biblioteka- informacja!
UWAGA!

Od 2 września Gminna Biblioteka w Poniecu
w SOBOTY będzie już czynna!!
ZAPRASZAMY!
Zielone Wakacje w Gminie Poniec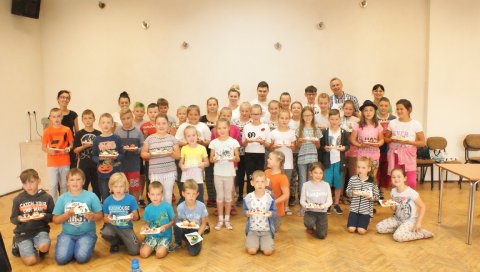 W lipcu i sierpniu w naszej gminie po raz kolejny zostały zorganizowane Zielone wakacje, które przeznaczone były dla dzieci w wieku 6-12 lat. Zajęcia wakacyjne podzielono na trzy turnusy, każdy z nich trwał 2 tygodnie, odbywały się one od poniedziałku do piątku w godzinach 9.00-13.00. Pierwszy turnus rozpoczął się 10 lipca i trwał do 21 lipca, podczas drugiego zajęcia odbywały się w terminie 24 lipiec - 4 sierpień, trzeci trwał od 7 sierpnia do 18 sierpnia. Łącznie w zajęciach wzięło udział ponad 300 młodych osób mieszkających na terenie naszej gminy.
Wkrótce

Warning: preg_replace(): The /e modifier is no longer supported, use preg_replace_callback instead in /gckstir.poniec.pl/libraries/joomla/filter/input.php on line 652

Warning: preg_replace(): The /e modifier is no longer supported, use preg_replace_callback instead in /gckstir.poniec.pl/libraries/joomla/filter/input.php on line 654

Warning: preg_replace(): The /e modifier is no longer supported, use preg_replace_callback instead in /gckstir.poniec.pl/libraries/joomla/filter/input.php on line 652

Warning: preg_replace(): The /e modifier is no longer supported, use preg_replace_callback instead in /gckstir.poniec.pl/libraries/joomla/filter/input.php on line 654

Kalendarz

Warning: Declaration of JParameter::loadSetupFile($path) should be compatible with JRegistry::loadSetupFile() in /gckstir.poniec.pl/libraries/joomla/html/parameter.php on line 388

Warning: preg_replace(): The /e modifier is no longer supported, use preg_replace_callback instead in /gckstir.poniec.pl/libraries/joomla/filter/input.php on line 652

Warning: preg_replace(): The /e modifier is no longer supported, use preg_replace_callback instead in /gckstir.poniec.pl/libraries/joomla/filter/input.php on line 654

Warning: preg_replace(): The /e modifier is no longer supported, use preg_replace_callback instead in /gckstir.poniec.pl/libraries/joomla/filter/input.php on line 652

Warning: preg_replace(): The /e modifier is no longer supported, use preg_replace_callback instead in /gckstir.poniec.pl/libraries/joomla/filter/input.php on line 654

Warning: preg_replace(): The /e modifier is no longer supported, use preg_replace_callback instead in /gckstir.poniec.pl/libraries/joomla/filter/input.php on line 652

Warning: preg_replace(): The /e modifier is no longer supported, use preg_replace_callback instead in /gckstir.poniec.pl/libraries/joomla/filter/input.php on line 654

Warning: Declaration of jevCategoryFilter::_createFilter() should be compatible with jevFilter::_createFilter($prefix = '') in /gckstir.poniec.pl/components/com_jevents/libraries/filters/Category.php on line 47

Warning: preg_replace(): The /e modifier is no longer supported, use preg_replace_callback instead in /gckstir.poniec.pl/libraries/joomla/filter/input.php on line 652

Warning: preg_replace(): The /e modifier is no longer supported, use preg_replace_callback instead in /gckstir.poniec.pl/libraries/joomla/filter/input.php on line 654

Warning: preg_replace(): The /e modifier is no longer supported, use preg_replace_callback instead in /gckstir.poniec.pl/libraries/joomla/filter/input.php on line 652

Warning: preg_replace(): The /e modifier is no longer supported, use preg_replace_callback instead in /gckstir.poniec.pl/libraries/joomla/filter/input.php on line 654

Warning: count(): Parameter must be an array or an object that implements Countable in /gckstir.poniec.pl/components/com_jevents/libraries/dbmodel.php on line 154